What can we do with IFTTT?

By connecting apps and devices together, IFTTT can help automate and simplify your life. Atmoph Window now has various kinds of actions that work with IFTTT, like voice commands that change the view, or changing the view based on the local weather. You can combine these actions however you like, so have fun!

How to set up 

To connect your Atmoph Window to IFTTT, complete the setup from both your Atmoph Window device and the IFTTT app.
Setup on Atmoph Window
Setup for IFTTT app and Applets
 
First, you will need an Atmoph account. Only one Atmoph Window is controllable via IFTTT per Atmoph account. If you don't have an account, refer to How to create an Account
When you're going to connect IFTTT with multiple Atmoph Window devices, you will need to create a new group from the smartphone app first. To set up, please refer to here. If you've already created, select a name of your group. As it might take a few minutes to sync with each Atmoph Window devices, please leave Atmoph Window about 10 minutes after selecting a Panorama view to start operate. 

Go to Menu > Settings > Account > Service Integration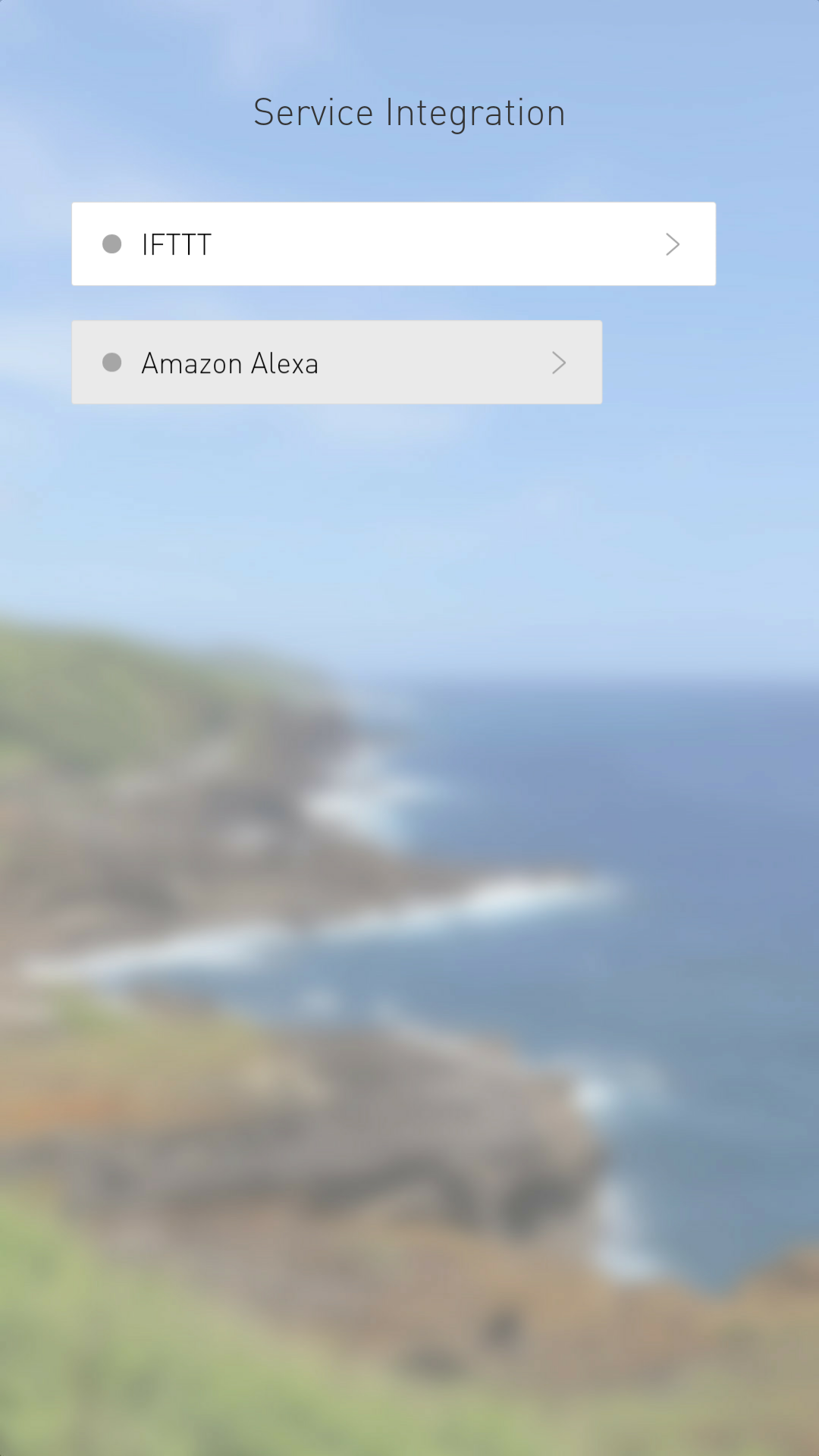 Select Connect.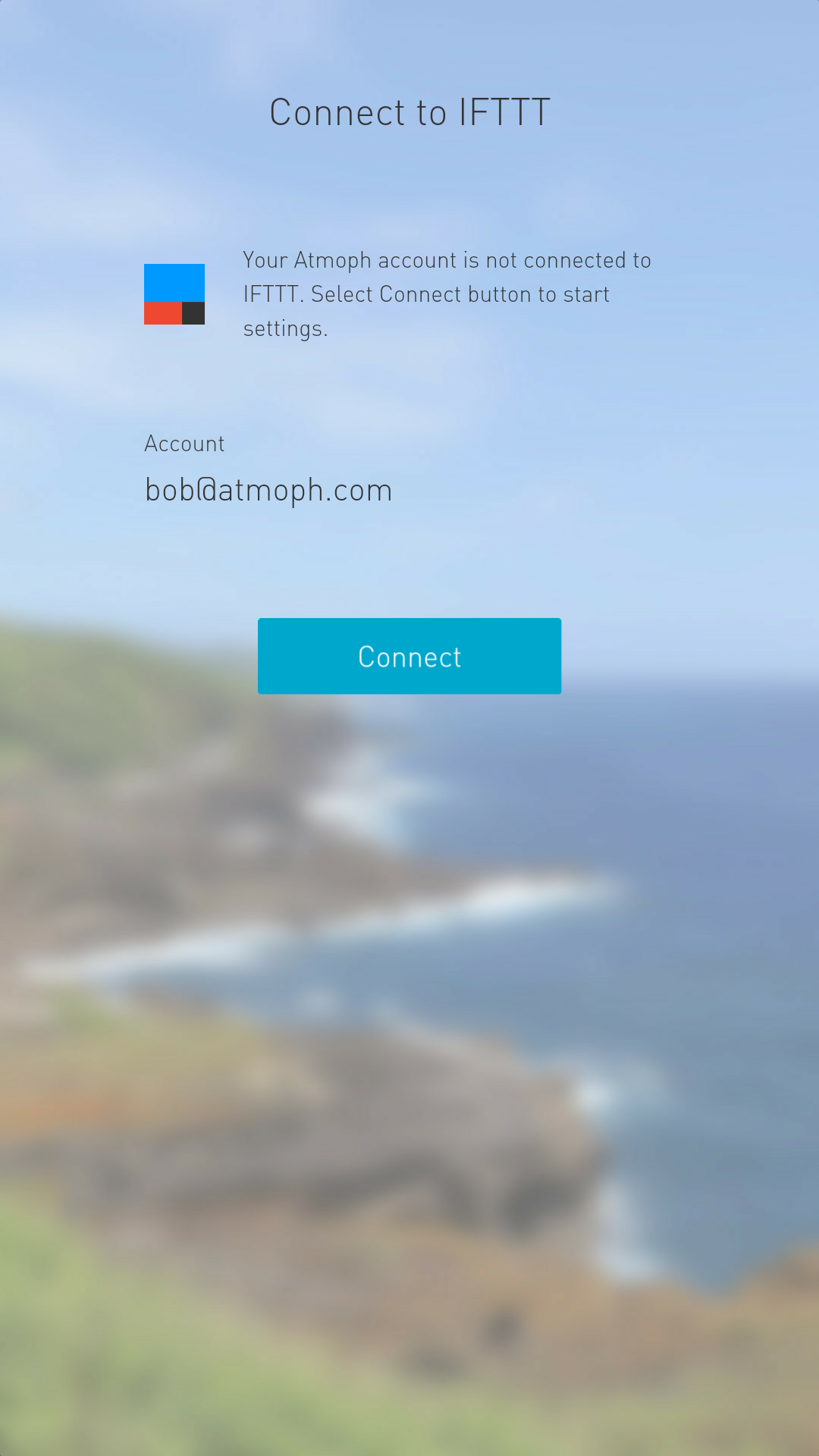 This Atmoph Window should now be controllable with IFTTT.
IFTTT account and Applets

Next, connect your IFTTT and Atmoph accounts. You can use your existing IFTTT account if you have one, but if you don't, you can install the IFTTT app and create an account.
Download IFTTT for iOS and Android
https://ifttt.com/products
IFTTT performs a certain action when it meets a requirement (trigger) that you set. A combination of trigger and action is called an "Applet." We offer some Applets for use with Atmoph Window, but of course you can make your own Applets, too. Here is the list of actions we offer List of Atmoph Window actions that work with IFTTT
 
Here are some examples of Applets that use Google Home and Flic.
Ask Google Home to change the view
Ask Google Home to turn on Atmoph Window
Turn on Atmoph Window by clicking a Flic button

Check here for details of List of Atmoph IFTTT Applets
 

How to set up an Applet
First, search for "Atmoph" from the search box on the IFTTT app. Select Atmoph from the search results.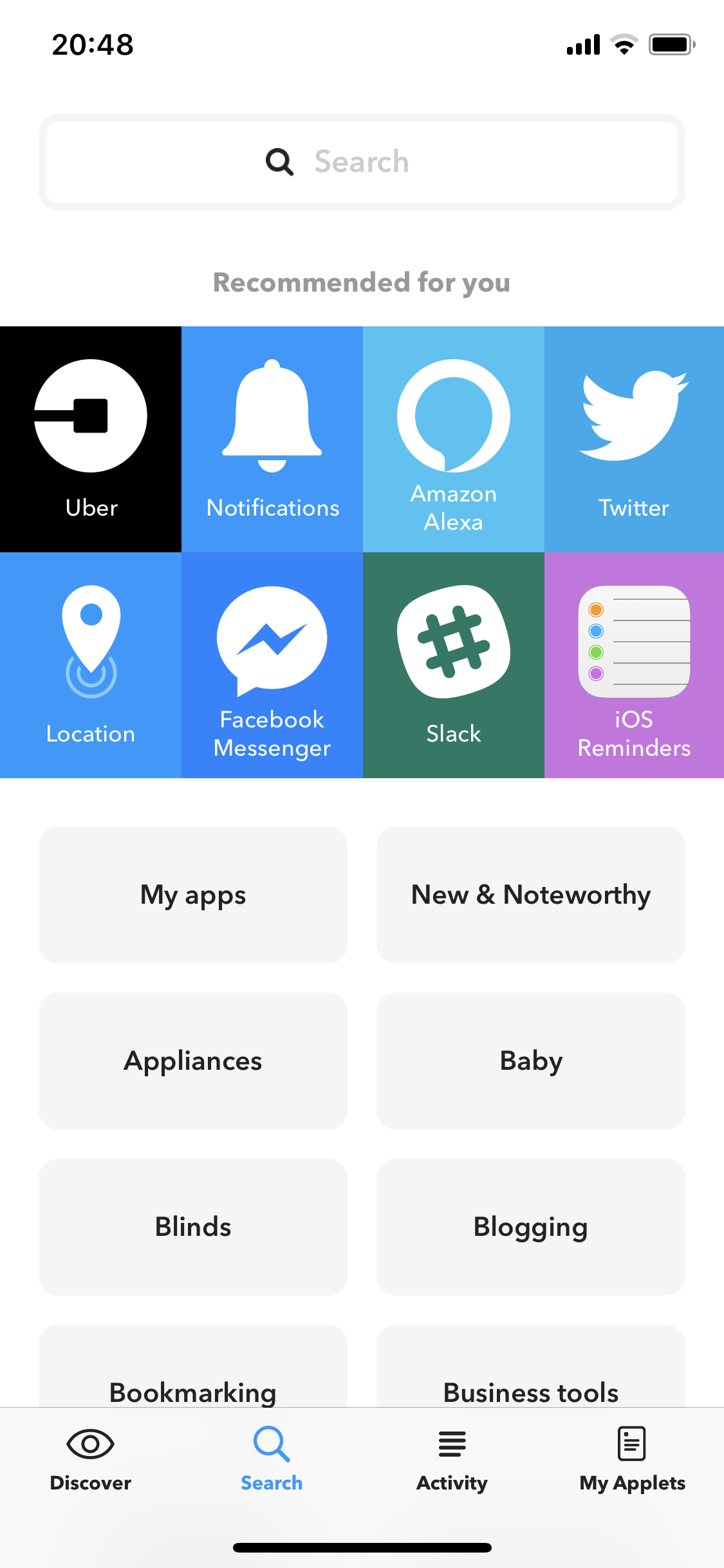 From the Atmoph service, turn on any Applets you would like to use.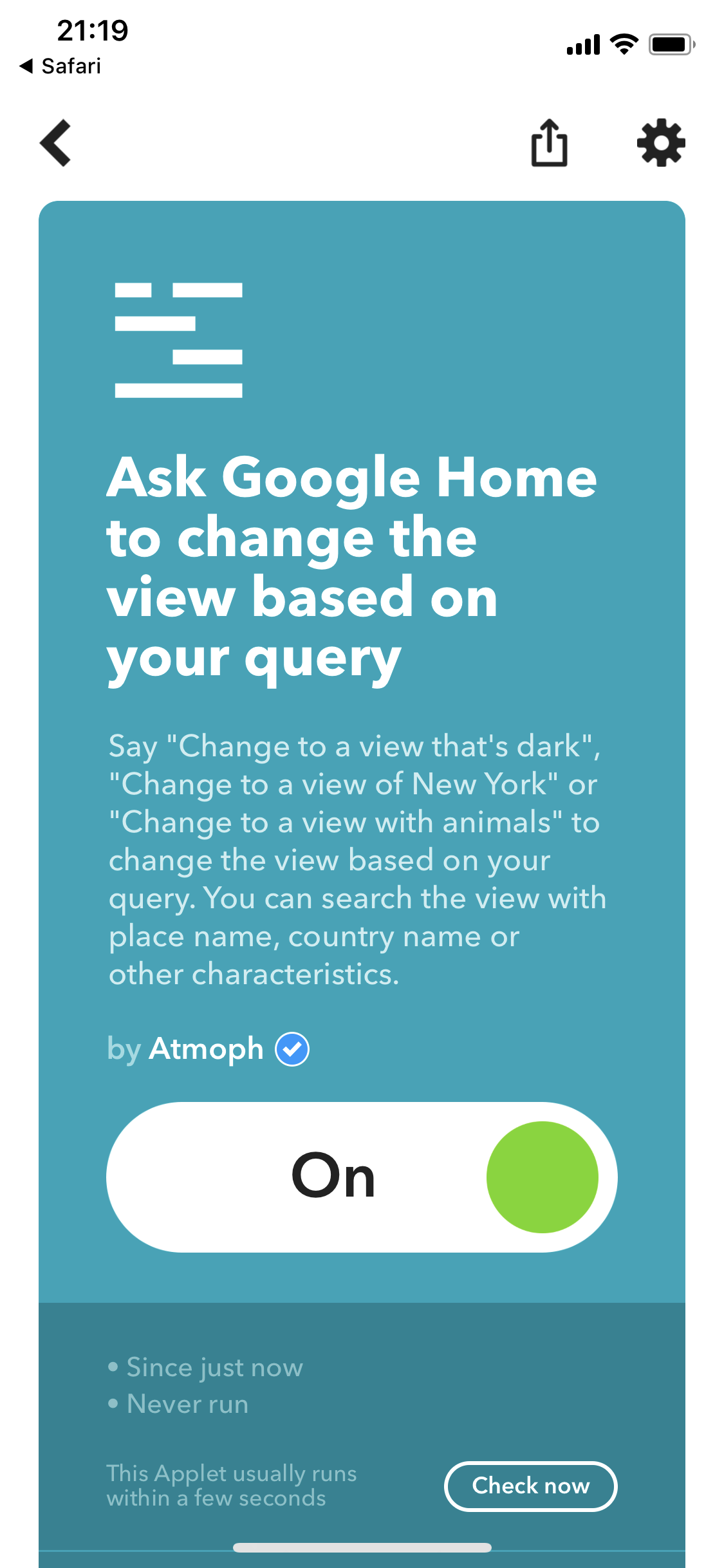 The first time you turn on an Applet, you're required to connect each service within the IFTTT app. For example, if you select "Ask Google Home to change the view," you'll be asked to sign into both Google and Atmoph accounts. Once this setup is complete, you won't have to sign in again.
To sign into your Atmoph account, input your email address.
An email with a 4-digit code will be automatically sent to you. Once you receive the email, enter the code provided.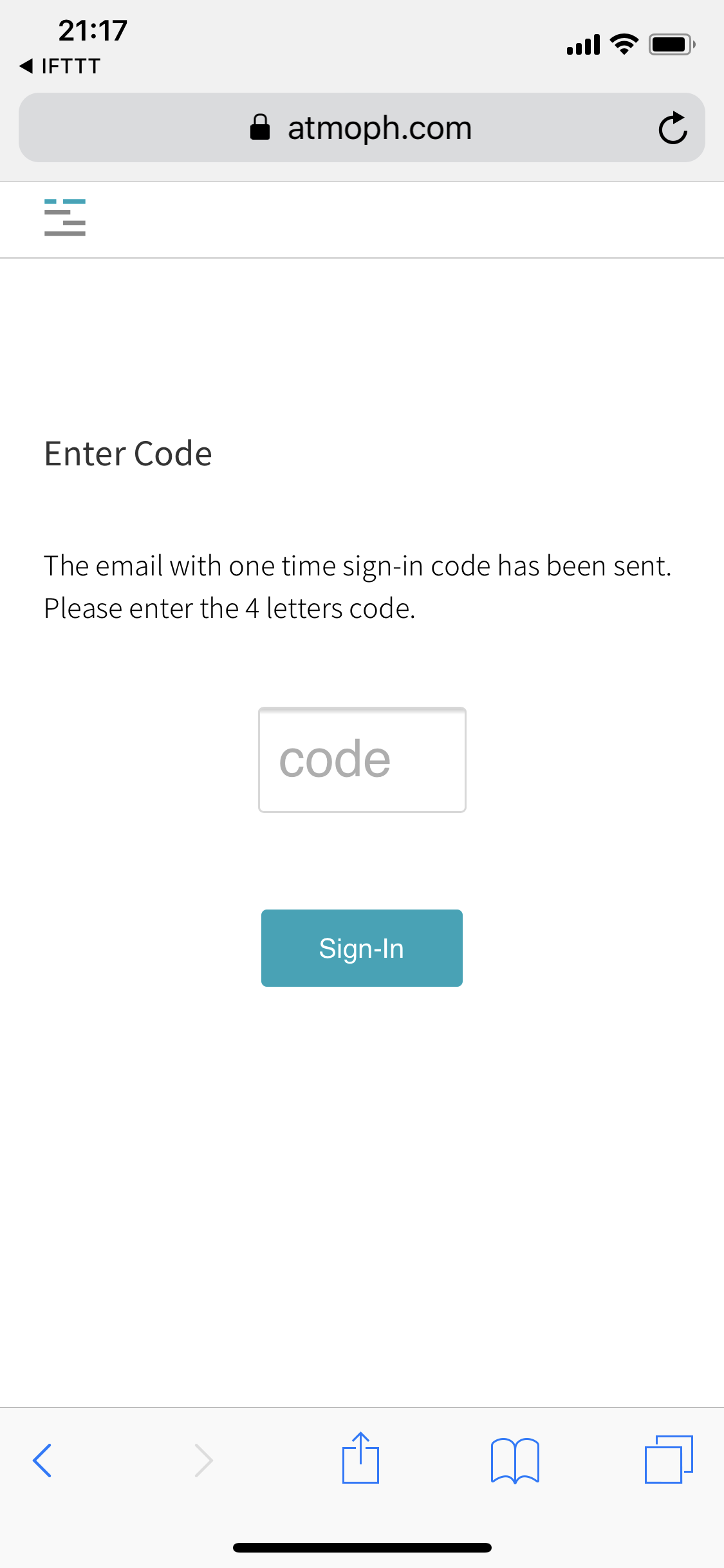 Then select Authorize.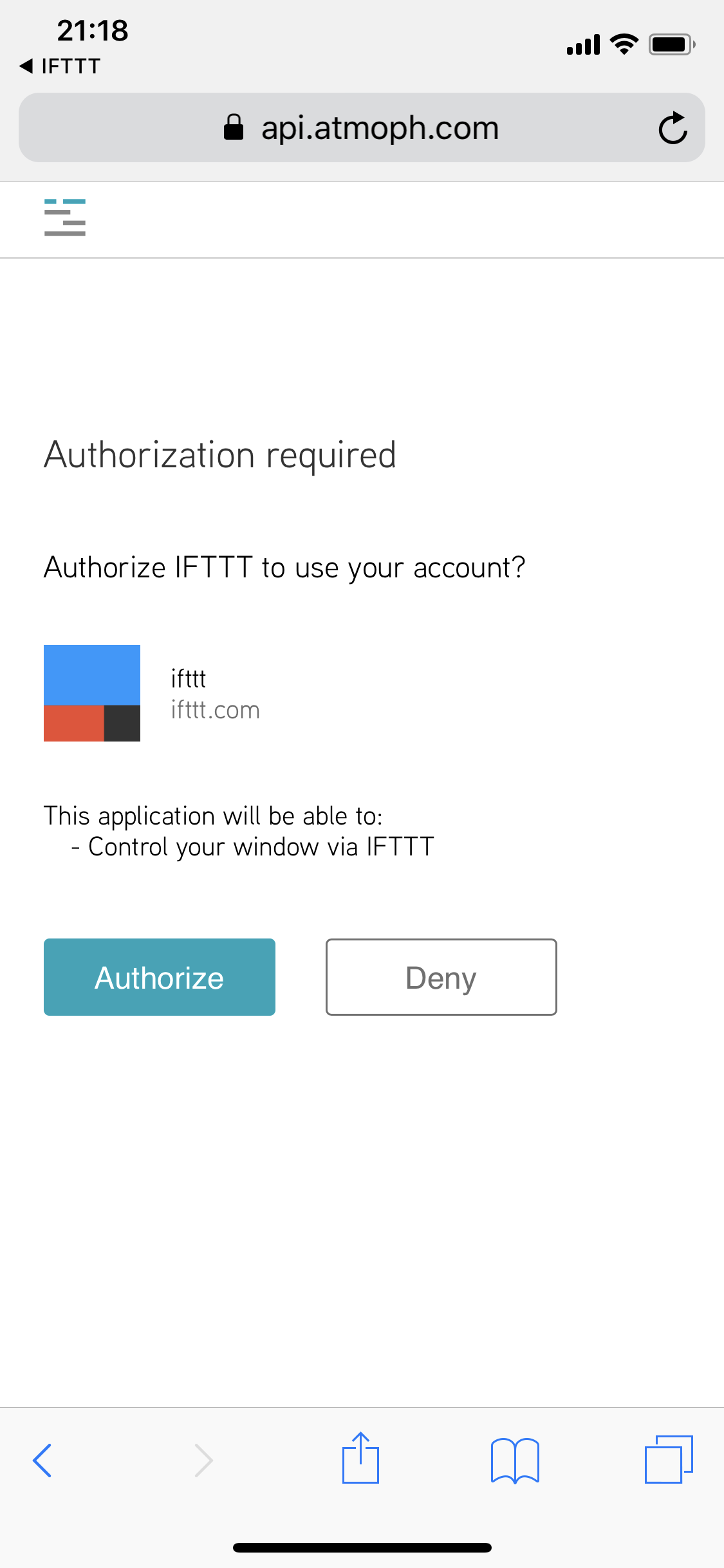 If the IFTTT and Atmoph accounts are successfully connected, you will automatically go back to the home screen on the IFTTT app. Select Save and that's it!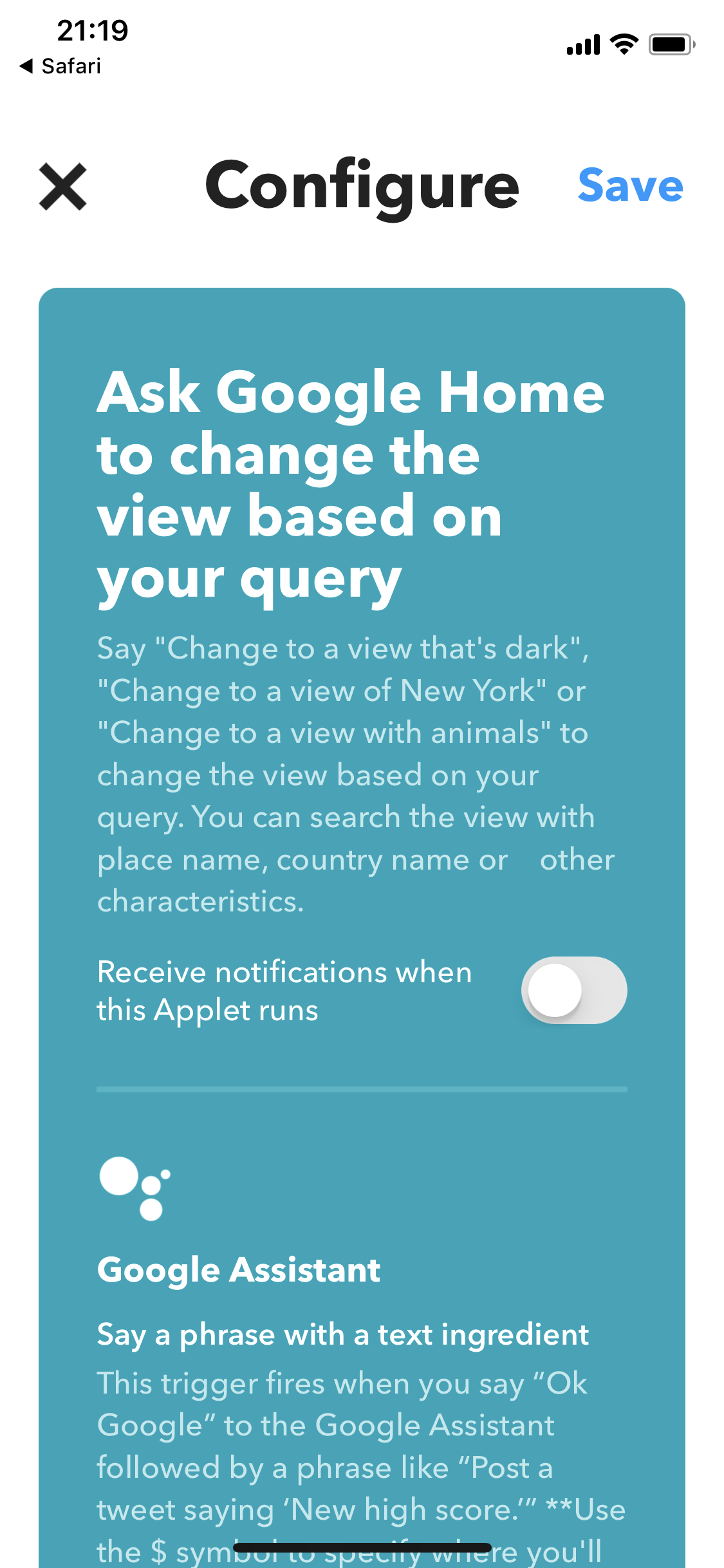 You can add as many as Applets you want by following this same procedure. Applets you've added are available on the My Applets screen. You can also try making your own custom Applets!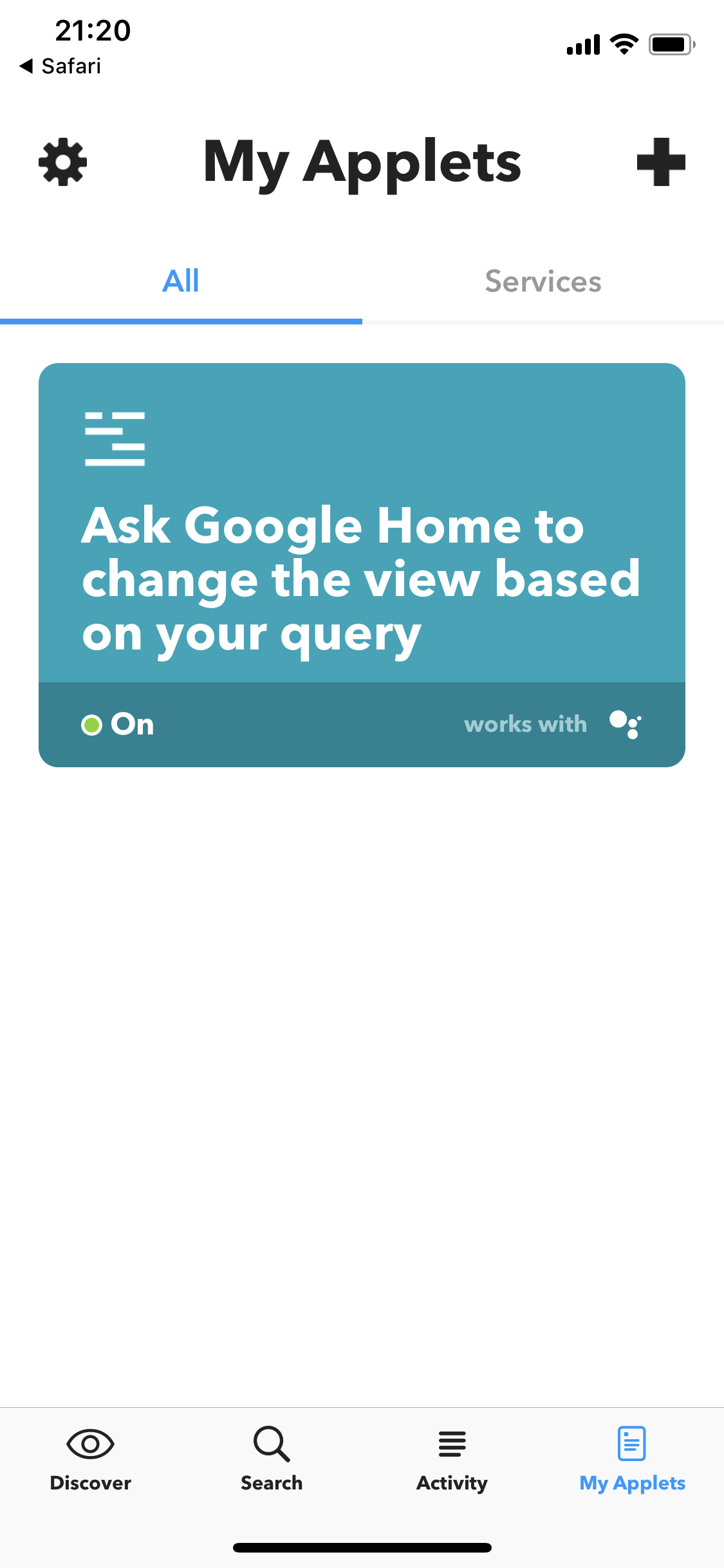 Now you're ready to enjoy the magic of IFTTT.
It's as simple as "Hey Google, change the view!"